ISO 9001 Consulting
What is ISO 9001? 
ISO 9001 is an international Quality Management Standard (QMS) first established in 1987. The latest version of the standard, ISO 9001:2015, was published on September 23rd, 2015. There will be a three year transition period meaning that companies that are certified to ISO 9001:2008 will have until their 2018 registration or surveillance audit to show conformance to the revisions in the 2015 standard.This QMS can be applied to any type of product and service and it is designed to help organizations increase market share and improve efficiency by ensuring product quality and customer satisfaction. Our consultants can help you to implement the ISO 9001 standard throughout your organization.
ISO 9001 Certification Requirements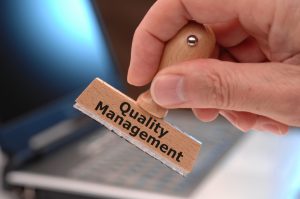 This QMS guides organizations to define a quality policy and a scope of the QMS in order to design a system for continual improvement of the business processes. ISO 9001 certification requirements include:
defining a policy and objectives of the quality management system;
defining, streamlining and documenting of all core processes that are necessary to show conformity to the standard;
communicating the policy and objectives of the QMS throughout the organization;
measuring the quality of the product quality and management system; and,
implementing a corrective action and auditing process to ensure continual improvement.
Benefits of Getting ISO 9001 Certified 
improved efficiency and effectiveness,
improved product quality and customer satisfaction,
improved supplier performance,
increased revenue, and,
improved employee commitment
ISO 9001 Implementation Process
Depending on the size and scope of your organization, setting up & implementing the Quality Management Standard, ISO 9001 certification process, and ISO 9001 registration can take anywhere from 2 months to 6 months. Listed below are the steps that our ISO 9001 consultants will follow in order to prepare your organization for successful ISO registration:
Core management team training,
Manual preparation – define scope, policy and interaction of business processes,
Draft core processes necessary to show conformance to the standard,
Draft supporting procedures needed to support your processes,
Ensure that all necessary records are identified, created, and implemented,
Conduct a full system Internal Audit, and,
Assist in conducting first Management Review.
For more information on the QMS and ISO 9001 consulting contact the ISO consultants at GlenView Group.