RIOS (Recycling Industry Operating Standard) Management System Consulting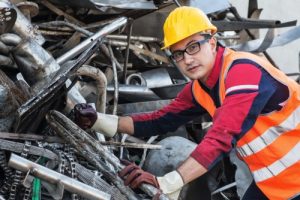 Understanding the RIOS Management System Standard
Recycling Industry Operating Standard or RIOS is a business management system for the recycling industry. RIOS integrates quality, environmental, and health and safety (QESH) management systems. RIOS QESHMS provides an excellent framework for the recyclers of scrap (irrespective of their size and the scrap materials that they recycle, including electronic scrap) to improve their quality, service, environment, health & safety management systems performance and bottom line.
RIOS covers key operational and continual improvement elements that also exist in the ISO 9001, OHSAS 18001, and ISO 14001standards without technical language and redundancies. RIOS renders a powerful framework for an integrated and comprehensive management system to drive continual improvement in the overall system thereby ensuring superior efficiency throughout the operations.
Why Your Organization Needs an RIOS QESHMS Standards Certification?
Scrap recyclers used only generic management system standards for environment, quality, and health and safety management before RIOS came into existence. It was, however, quite difficult to use several standards that weren't designed for the recycling industry in particular. Realizing the need for designing a standard for efficient management of environment, quality, and health and safety management systems, ISRI introduced the RIOS standard. RIOS is designed particularly for the scrap recyclers of all sizes and scrap materials including electronics, metal, paper, and so forth. With RIOS QESHMS in place, your organization can ensure continual improvement in environment, quality, and health and safety management systems.
RIOS QESHMS Certification Requirements
Here are few of the requirements that must be met by a recycling firm to be able to obtain RIOS certification:
Obtain RIOS membership (this can be in combination or independent from your ISRI membership);
Design and implement a RIOS QESHMS;
Operate RIOS QESHMS through at least one "plan, do, check and act" cycle to gather adequate records of required activities to render the auditing team capable of checking and confirming your RIOS conformance; and,
Select Certification Body to arrange certification audits.
Benefits of getting RIOS QESHMS certified
RIOS is beneficial a scrap operation's bottom line, where it's needed the most and really counts. Benefits of RIOS implementation may vary across organizations; however, RIOS will generally help your company with:
Increasing productivity;
Boosting efficiency;
Boosting profitability;
Ensuring environmental compliance;
Improving health and safety practices;
Monitoring and improving quality of products and services;
Reducing environmental impacts, risks and costs;
Ensuring continual improvement in your operations;
Reducing risks and costs associated with health and safety;
Enhancing customer satisfaction and confidence in your offerings;
Improving relations with your legislators, regulators, and neighbors; and,
Empowering and motivating your employees to work towards the common goals of the organization.
To know more about RIOS QESHMS, its requirements, benefits, and training needs, call the ISO experts at Glenview Group.