WHAT IS ISO AUDITING?
The ISO in ISO auditing stands for The International Standards Organization. This organization consists of men and women who set the standards for services and products on an international level. When an organization chooses to adhere to ISO, audits are a minimum requirement. Audits confirm whether or not company's processes and procedures are in compliance with ISO standards and if it is maintaining a high level of quality, services and product.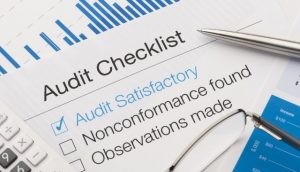 Audits take place on the premises of the company. An audit resembles an inspection within the company to make sure that it is complying and executing their business in a way that is meeting the standards of ISO.
There are 3 types of audits and 3 parties that can perform theses audits. The 3 audits are: System, Process, and Product.
The system audit is towards the management to ensure that the standards of ISO are being followed.
The process audit is to make sure that the procedures and methods of the company are on track with the standards of ISO.
The product audit evaluates services and/or products to determine if they are meeting the standards as well.
The 3 parties are: the First party, Second party, and Third party.
The First party audit is performed by qualified members of the staff, within the company being audited. This audit is to ensure that the way the company is being ran, complies with the standards and will find ways to make improvements, if they are needed.
The Second party audit is an external audit between the company and their supplier, customer or consultant. This audit is to ensure that the supplier or customer is complying to the requirements of ISO and set terms and conditions between the parties.
The Third party audit is conducted by a Certification Body (CB), to ensure that all requirements are being met. Most of these audits help determine whether or not a company will receive the certification they are seeking.
During an ISO audit there will be a few issues that may be addressed such as the company's objectives, the company's goals and plan of action, the quality policy and if it is understood and being followed properly, or if the quality management system is on track to being successful and sustaining it.
Audits are a minimum requirement and will ensure that a company is moving in the right direction. They will ensure that the company is taking the proper steps in order to meet the standards set by The International Standards Organization.